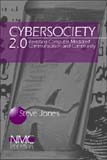 CyberSociety 2.0: Preface

by Steve Jones (sjones@uic.edu)
This excerpt is the preface to the book CyberSociety 2.0: Revisiting CMC and Community from Sage Publications, Inc. (Newbury Park, CA). It is © by Sage Publications and Steve Jones, all rights reserved.
---
To paraphrase Ted Peterson's introduction to the revised edition of his book Magazines in the Twentieth Century, almost as soon as this book's predecessor, CyberSociety: Computer Mediated Communication and Community, first appeared, netizens, software developers, hardware manufacturers, social scientists, social critics, and social activists set about making it out of date. When CyberSociety was completed late in 1994 the WorldWideWeb was something I clearly recall talking about with colleagues online. Web sites were few and far between, and content was, well, let's only say that it was by and large text with an occasional image thrown in for variety.
As I had expected at that time, though, innovations in CMC, and communication via computers generally, exponentially increased to the point where electronic mail is as common in most countries as a phone call, or, as Adrianne Laird, then one of my undergraduate students, put it, even virtual reality was "just around the corner from commonplace." The Internet is still not so ubiquitous that we all know what it is and how to use it, though, due, in part, to the fact that the technology is still rapidly changing, that it is not embraced by all, and, most importantly, because it is still inaccessible to the vast majority of people in the western world, and in other countries it is almost unknown.
CyberSociety 2.0, like its predecessor, is rooted in criticism and analysis of technologies that do presently exist and form the foundation for the media- ready pronouncements by everyone from MIT's Media Lab, to Microsoft, to Nintendo, about the wonders we are about to witness. And, also like its predecessor, CyberSociety 2.0 will not assist its readers to become more proficient at using any of a variety of tools for computer-mediated communication (CMC). Such assistance can be found in a variety of sources available at most bookstores and libraries, and even more readily available online.
CyberSociety 2.0 is so named because, as in the world of software engineering where it is common to number versions of revised software sequentially, it builds upon its predecessor's foundations. Some parts of those foundations are still present and visible in this book, and have been re-engineered, while many parts of this book represent entirely new construction. The goal was not to document the changes that have taken place since the first book's writing, just as the goal of this book is not to anticipate what changes will come our way. Instead, the goal of this book, as of its predecessor, is to assist readers to become aware and critical of the hopes we have pinned on computer-mediated communication and of the cultures that are emerging among Internet users. Both books are products of a particular moment in time, and also thereby serve as snapshots of the state of affairs, the concerns and issues, surrounding these new technologies of communication.
---
CyberSociety 2.0 table of contents
Return to Steve Jones' WWW page